Chronic pain may play large role in suicide rates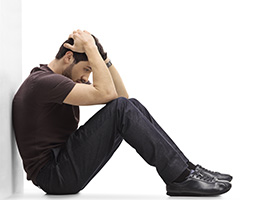 Sept. 25, 2018—Chronic pain may be a big contributor to suicide in the U.S., according to a new analysis.
Researchers looked at suicides in 18 states from 2003 to 2014 and found that nearly 9 percent of the people who died had been diagnosed with chronic pain. The most common reasons for their pain were back conditions, cancer and arthritis. Anxiety and depression also were diagnosed more often in people with chronic pain who died of suicide.
In cases where toxicology reports were available, opioids were much more likely to be present in those with chronic pain compared to those without pain. However, only about 16 percent of people with chronic pain used opioids to kill themselves, a rate that held steady even though prescribing of opioids has increased. More than half used firearms.
Those with chronic pain were older on average. Suicide rates increased with age and were highest among those 80 and older. According to the study, health problems late in life are a known suicide risk. And chronic pain—especially severe chronic pain—increases with age.
Other factors, such as relationship problems or other life stressors, were less common among those with chronic pain. That suggests that pain was the motivating factor for suicide.
According to the study, more than 25 million adults in the U.S. have some level of daily chronic pain. More than 10 million have severe pain every day.
Suicide has been increasing since 1999. It is now the 10th leading cause of death in the U.S. The researchers also noted that chronic pain has been increasing in the general population.
The study's authors urged that doctors caring for people with chronic pain be aware of the heightened risk for suicide. Beyond opioid prescriptions, interventions such as other medications, physical therapy and psychosocial approaches should be considered when appropriate, they wrote.
Learn what you can do when pain won't go away.