Addressing the Opioid Epidemic
Author: John M. Dawson, PhD, TC Spine Clinical Research Director
The American Medical Association recently stated, "overdose related to prescription opioids and heroin remain high" in 2021.[1] The AMA says further, "The nation's COVID pandemic made the nation's drug overdose epidemic worse." According to the Minnesota Department of Health, 53% more Minnesotans died in 2020 of overdose involving commonly prescribed opioids (such as Vicodin, Percocet, morphine and methadone) compared to 2019.[2] The COVID pandemic likely contributed through job losses, economic issues, isolation and other personal crises.
Our care teams at TC Spine are taking action to do what we can to reverse this alarming trend. Preoperatively, we have our patients attend a patient education class that teaches about narcotics and pain control post-surgery. We are also fortunate to be able to offer bedside integrative medicine and spiritual care as part of our patient care. These services include aromatherapy and acupuncture to ease anxiety, pain, nausea and more. Says Leslie Weide, the licensed social worker dedicated to our spine patients, "I am excited that these self-care resources are available to our patients as extra options to help them cope with a variety of health issues, including pain. These help improve a person's wellbeing by focusing on physical health, mental health and emotional health."
Opioids, like oxycodone, have great usefulness for decreasing postoperative pain and are often the drugs of choice for pain management. However, narcotic misuse and abuse can lead to family disruption, poor productivity and lost time at work. TC Spine's doctors are looking at alternative drugs for postoperative pain management that may reduce the need for opioid drugs. We are conducting a clinical trial of one such drug to find out if it reduces pain and the need for painkillers after surgery, subsequently shortening the length of hospitalization and lowering the cost of surgery. More information about this study may be found here.
Twin Cities Spine Center's providers are committed to preventing opioid dependency without sacrificing patient care and satisfaction. In combination, our efforts have reduced the amounts of narcotics prescribed when patients go home from the hospital. As the chart below shows, prescriptions for opioids (the average number of pills per patient) decreased by 13% over the first half of 2021. Over the same period, our patients' satisfaction with their care experience increased by 3%. We will continue to work with our patients to ensure that their postoperative pain management is effective and safe.
[1] American Medical Association, Issue brief: Nation's drug-related overdose and death epidemic continues to worsen, https://www.ama-assn.org/system/files/issue-brief-increases-in-opioid-related-overdose.pdf, November 12, 2021.
[2] Pine Journal, Minnesota drug overdose deaths jumped in pandemic year, https://www.pinejournal.com/newsmd/health-news/7012564-Minnesota-drug-overdose-deaths-jumped-in-pandemic-year, 3 May 2021.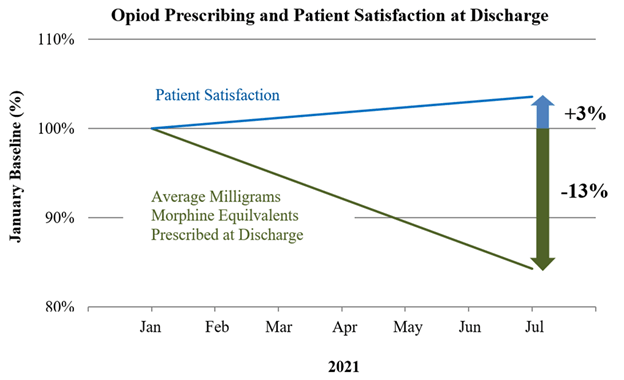 (Data collected by Allina Health and Twin Cities Spine Center)